Oakland vying for WNBA team
The area is teeming with elite women's basketball. Cal reached the Final Four in 2013 and Stanford won its third national championship in 2021.
The Warriors moved from Oakland to San Francisco in 2019, the Raiders moved from Oakland to Las Vegas in 2020, and the A's are now playing with the same idea. Why does the African American Sports and Entertainment Group believe Oakland can be the new home of a Women's National Basketball Association franchise?
Logistically, AASEG is considering using the Oakland Arena vacated by the Warriors. The heart of their proposition, however, is that the Bay Area has more WNBA fans than eight of the league's current 12 markets.
Proponents of league expansion say adding to the 144 roster spots will reduce the number of talented players without a spot on a team, and expanding beyond 12 cities will broaden league exposure . WNBA commissioner Cathy Engelbert said the expansion was "part of a transition plan" but will have to wait for the business model to develop.
Whenever the WNBA expands, Oakland will be at the top of the list of potential locations. The area is teeming with elite women's basketball. Cal reached the Final Four in 2013 and Stanford won its third national championship in 2021.
"It's a gold mine ready to strike," said Malik McCord, the women's basketball coach at Bishop O'Dowd High School in Oakland. "If someone invested in this, it would sell out… It wouldn't just be the people of Oakland who would be there to support, but people would come from all over to support."
However, since the Sacramento Monarchs folded in 2009, there has been no WNBA team in Northern California. That same year, McCord began coaching at O'Dowd and discovered that the school had two gymnasiums, the "Boys Gym" and the "Girls Gym". If anyone was talking about O'Dowd basketball, they were referring to the men's team that had won nine Northern California championships. The women's basketball team had never reached the title game, and McCord was determined to change the culture.
On a smaller scale of 1,250 students, Bishop O'Dowd is a model of commitment to women's basketball in Oakland. The Catholic high school owned and operated by the Diocese of Oakland changed the names of the gymnasiums to "Large Gym" and "Small Gym" at McCord's request, and his team began winning.
O'Dowd's women's team are now six-time North Coast Section (NCS) champions and three-time state champions. Their season ended in the NCS playoffs at 15-7. They finished third in the West Alameda County – Foothill league with a 5-3 record.
The girls no longer practice at the Small Gym either. Two days before the first-round playoff win over Cardinal Newman, McCord stood outside the large gymnasium dressed in all-black workout gear with his three other coaches. His pink basketball shoes gave his 6-foot-3 frame an extra inch. An hour and a half into practice, McCord coached the players on inbound plays that could decide a playoff game.
The 12 girls on the list represent Oakland's diversity, but they're all wearing the same black or gray basketball shoes that squeak as they run from baseline to baseline and are back in less than nine seconds after a poor performance in an exercise. They can execute a game perfectly by hearing the numbers "45" or "23".
Emma Mathai, senior and captain, travels to O'Dowd from Castro Valley. She grew up playing football and softball, but found herself practicing basketball early and took it as a sign of her passion. His hero is Chris Paul because of his pace of play and the way he involves his teammates.
Savannah Jones, a sophomore, started playing basketball because of her brother, Ty. She played football for the same reason, and in the fall started running for the junior varsity team. Her mother, Dorothy Serdar, watched her play in the JV game, then stayed to catch Ty playing center linebacker in the college game. Jones likes Kyrie Irving because of his aggression, his movement and his finishing at the basket.
Jasmine Taylor admires her grandmother because she was a very loving soul. The girls didn't mention any female basketball heroes, but they lit up at the mention of alumni of the program, like Oderah Chidom or Asha Thomas.
Chidom, a 2013 O'Dowd graduate, played four years at Duke. The Atlanta Dream drafted her with the 31st pick in the 2017 WNBA Draft, but she never played in a regular season game. Instead, Chidom found opportunities to play professionally overseas. She played in Belarus and on the Nigerian Olympic team which competed last summer in Tokyo. Now she plays in France with the Union Féminine Angers Basket 49.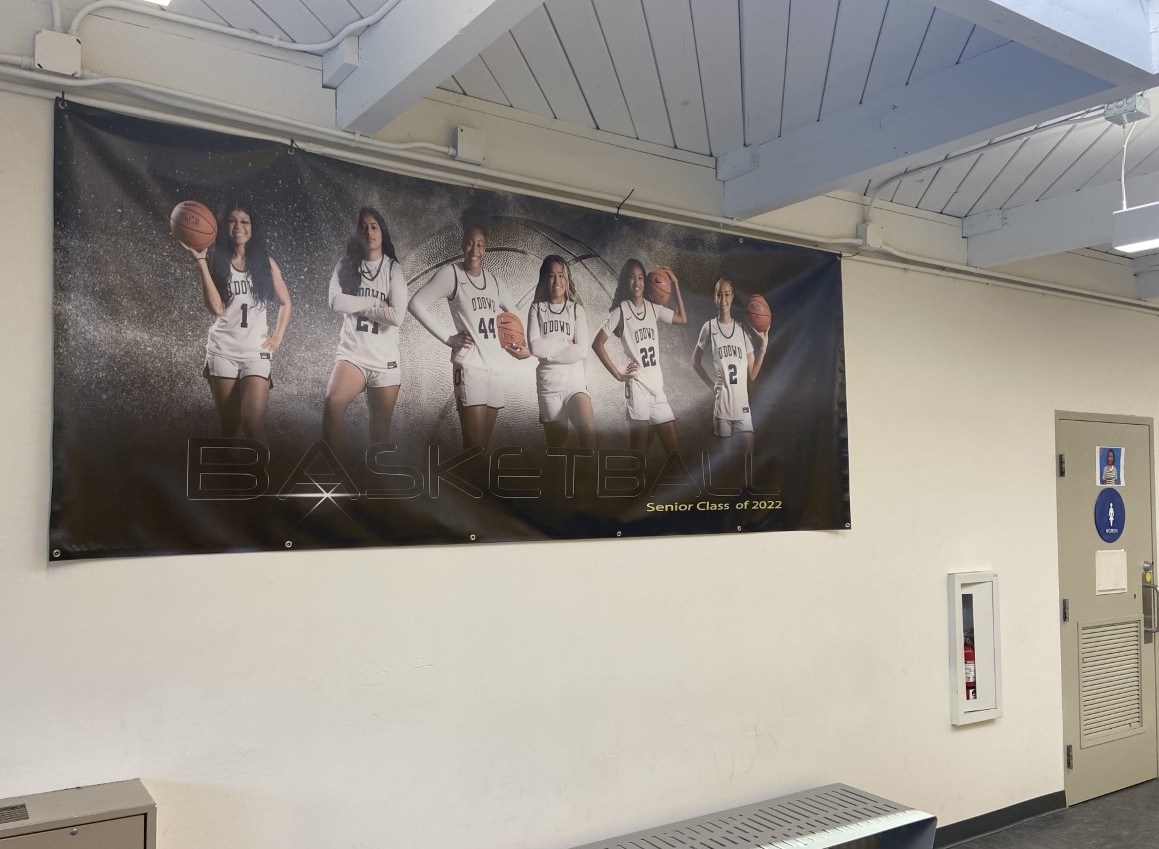 Thomas approached McCord as a freshman in 2011 and asked, "What can I do for the team?" At the end of her four years, she was an honorable mention All-American and a Top 100 rookie with a scholarship to play at Cal. There, the 5-foot-4 guard set a career-high 3-pointers and is fourth on the all-time assists list. She now plays professionally in Germany for Eigner Angels Noerdlingen, but still finds time to help the team, often chatting with Taylor.
A senior captain, Taylor sees basketball as an escape. Before she started playing seriously in sixth grade, she was fighting a lot and was suspended. She needed an outlet. "I tried boxing, but I didn't like getting punched in the face," Taylor said.
A WNBA team based in Oakland, Taylor said, would be another outlet. This would be a concrete and achievable goal for her and other young female athletes. As she faces the unknowns of a high school graduation and leaves her community, a WNBA team in her hometown would be anchored.
"I want to get away from it all, but I also want to get back to something – as a senior, that's my mentality," Taylor said. "I really don't have anything to say at the moment. So I feel like that would be it.